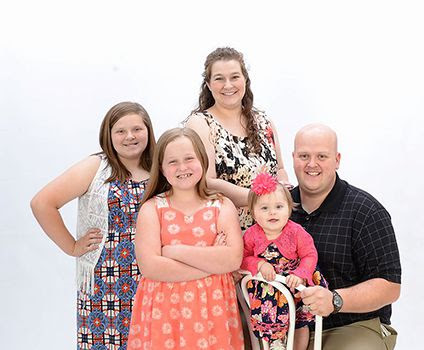 James Andrew Nunley was born September 19th, 1983 in Lebanon, Virginia to Bob and Freda Nunley.  James was raised in Washington and Russell counties in Virginia.  James was saved when he was 8 years old under the pastorate and direction of both his grandfathers, June Nunley and Arbie McFaddin.  James is a graduate of Lebanon High School, class of 2001. 
The Lord blessed James to marry his best friend Jenny on May 15th, 2004.  They have now been blessed with three daughters, Kaydence, Krista, and Kyleigh.  The Lord has given James the opportunity to serve in the church in many capacities.  James first had the chance to teach the Royal Ambassadors alongside Br. Dwayne Musick, as well as multiple age groups during Vacation Bible School alongside his wife Jenny.  James is a member of the choir and served as congregational song leader at Cedar Pointe Baptist Church for 3 years.  James was given the opportunity to teach the adult men's Sunday school class at Cedar Pointe Baptist Church, under the pastorate of Pastor Jim Fuller. 
James responded to God's call to preach on May 12th, 2013 and was ordained through Cedar Pointe Baptist Church on November 11th, 2013.  James became interim pastor at Cedar Pointe Baptist Church on April 6th, 2014 and full time pastor on July 13th, 2014, after the retirement of Pastor Fuller.